Iceland Driver is a small family run business. We are a fully licenced tour operator by the Icelandic Tourist Board and the Icelandic Transport Authority. Our driver is fully licenced and with years of experience of driving in Iceland. We are fluent english speakers and experienced guides. We will take good care of you during your stay and do our utmost  that you have an enjoyable and safe holiday while in Iceland.
We would like you to have the experience of a lifetime while visiting Iceland. We specialize in offering customized tours for maximum 4 persons at a time. If your favorite is cross country hiking, landscape photography, trout fishing or birdwatching we are happy to arrange it, but if you would just like to enjoy Iceland at an easy pace and eat well and sleep well we are also on your side.
We look forward to work for you and travel with you.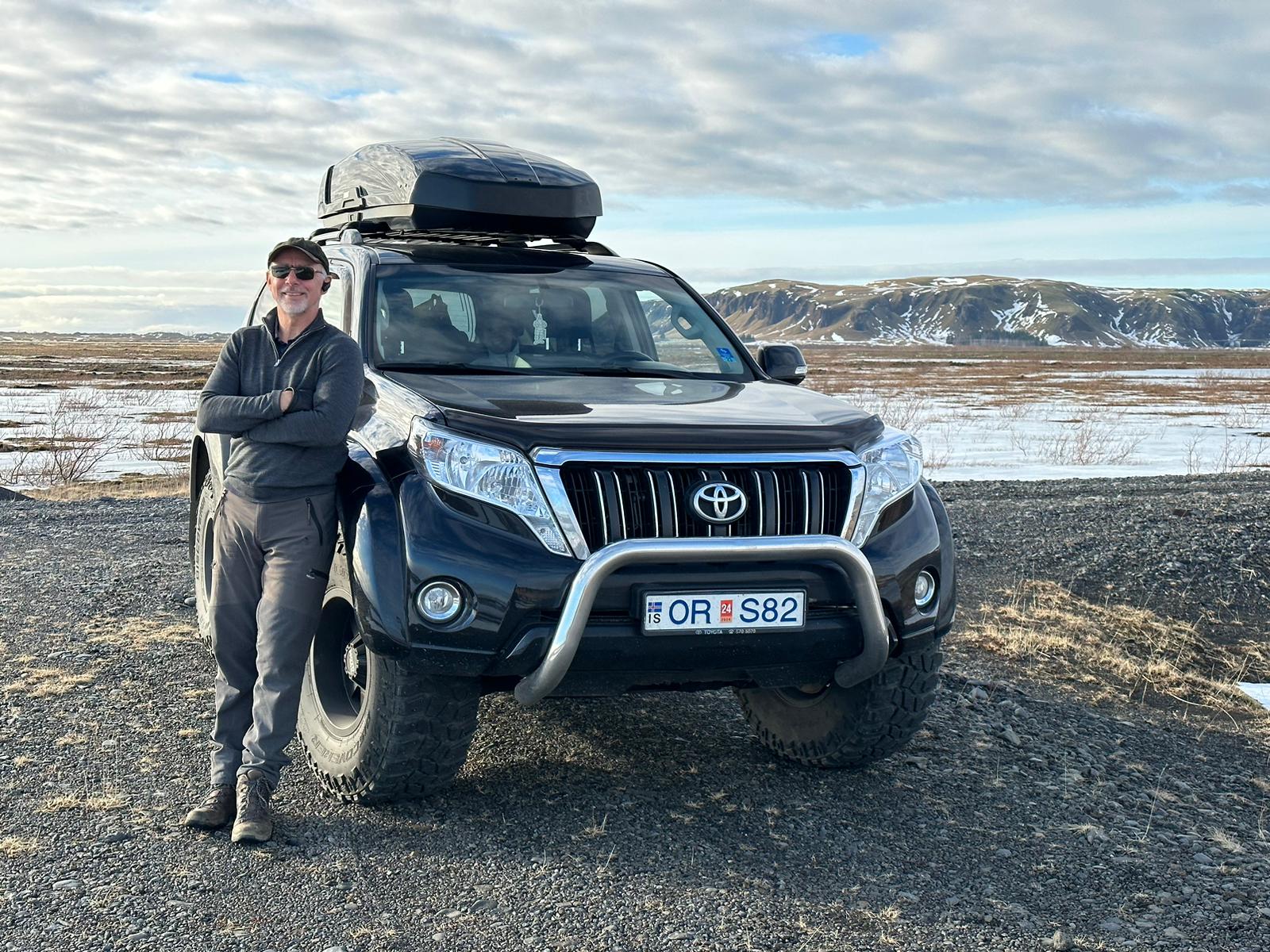 Meet Your Guide
In my other professional carreer I am a playwright and a journalist here in Iceland with a BA and Masters degree in English and Drama from the Universities of Manchester and Leeds in England.
I do daytours from Reykjavik to the most favorite spots, like the Golden Circle with highlights being The National Park with the Viking Parliament, The Geysir Geothermal area and The Golden Waterfall. Other daytours include the South Coast with Waterfalls and glaciers being the highlights along with The Black Beach. The Westcoastal areas with the historic Borgarfjordur and the magnificent Snaefellsnes Peninsula are both doable as daytours from Reykjavik but can also be done at a more realaxed pace as a two day or even a three day tour. The Southeast of Iceland with the towering glacier Vatnajokull and tthe unique Glacial Lagoon as the definitive highlight is also ideal as a two or a three day tour. The highlands are a world of its own and are easily accessible in the summer and can be explored as a single day tour or multi-day tour from a base of a comfortable hotel.
I love to show my customers some out of the way places, using my thorough local knowledge of the country to do so.
The history, the culture, the nature and the geology of Iceland offer endless possibilities when it comes to exploring this country whose national character is formed by lava, ice and stormy weather. The geothermal hot water which Iceland is so well known for is abundant and runs out of the faucets in every house but you can also find natural geothermal pools around the country, and a soak in in one after an adventurous day is simply not to be missed.
The glaciers in Iceland are special favorites among our visitors and they are easily accessible. You can choose to look at them from up close or actually go on a special glacial hike in which case you will be provided with the neccessary gear, crampons, iceaxe and helmet under the supervision of a specially trained glacier guide. It's an experience not to be missed. If you are into photography I am a keen photographer myself and would love to take you places and search out the best light conditions, be it the Midnight Sun or the Northern Lights. If you would like to spend several days travelling in and around Iceland I can easily set up a customized tour for you where all your interests are covered. I look forward to travelling with you and showing you my country and tell you the history of the viking settlement in the 9th century, of the medieval literature and The Icelandic Sagas, the geology, the folklore, the Flora and the Fauna, and last but not least tell you about the modern society we have built up since the country's independence in 1944. So whatever it is you would like to see , do or hear I am at your service.